Ingredients:
3 cups all-purpose flour
1 cup unsweetened cocoa powder
2 cups sugar
2 tsp baking soda
1 tsp salt
2 cups hot water
3 tsp instant coffee powder
2 tbsp white vinegar
1 tbsp vanilla extract
⅔ cup veg oil
2 large eggs
Butternut Coating
1 cup all-purpose flour
¼ cup white sugar
¼ cup melted butter
a pinch of nutmeg powder
1 cup powdered sugar
4 tsp egg yellow food color + 2 tsp red food color (orange food color substitute), adjust the color if needed OR 2-3 tsp orange food color
Glaze
1 cup powdered sugar
3 tbsp milk
1 tsp vanilla extract
WATCH: Video on How to Make Moist Choco Butternut Loaf Cake
Procedures:
In a large bowl, combine and sift the dry ingredients: flour, baking soda, salt, cocoa powder and sugar. Mix until well combined. Set aside.
In a separate bowl, combine the wet ingredients: hot water, coffee powder, vinegar, vanilla extract, vegetable oil and eggs. Mix until combined.
Combine the wet and dry ingredients. Mix until well incorporated.
Mix until the batter becomes smooth. Do not over mix.
Pour the cake batter into the greased loaf pan.
Tap 3 times to release air bubbles.
Steam the cake for 50-60 minutes or until the toothpick inserted comes out clean. Don't forget to wrap the lid with cotton cloth to avoid water from dripping into the cake.
OR
Bake in a preheated oven at 175 C for 50 minutes or until the toothpick inserted comes out clean.
Glaze the whole cake.
Coat the whole cake with butternut coating.
Slice the cake and enjoy!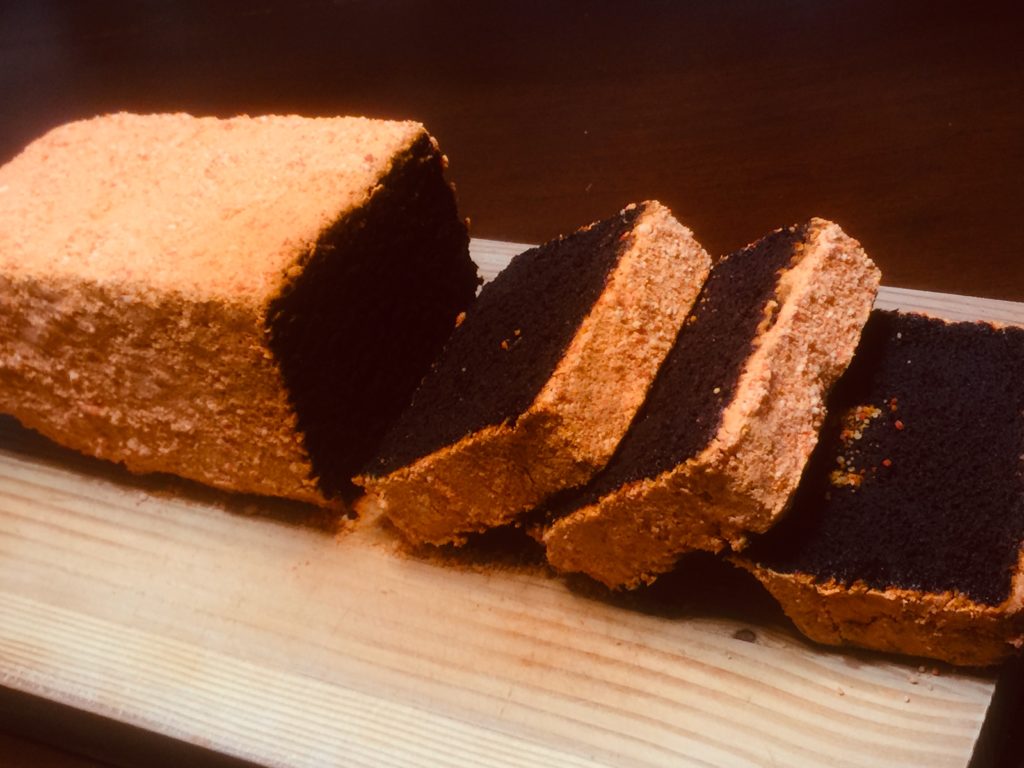 How to Make Butternut Coating
In a large bowl, combine flour, sugar, nutmeg, butter, vanilla. Mix to combine. Mix well using your hands.
Transfer in a pan and cook for 5 minutes over low heat. Allow to cool completely. Transfer into a bowl.
Add powdered sugar. Mix well. Use your fingers to break up lumps easily.
Add orange food color. Adjust the color ratio if desired. Set aside.
How to Make Glaze
Combine all the ingredients: powdered sugar, milk and vanilla extract. Mix well.